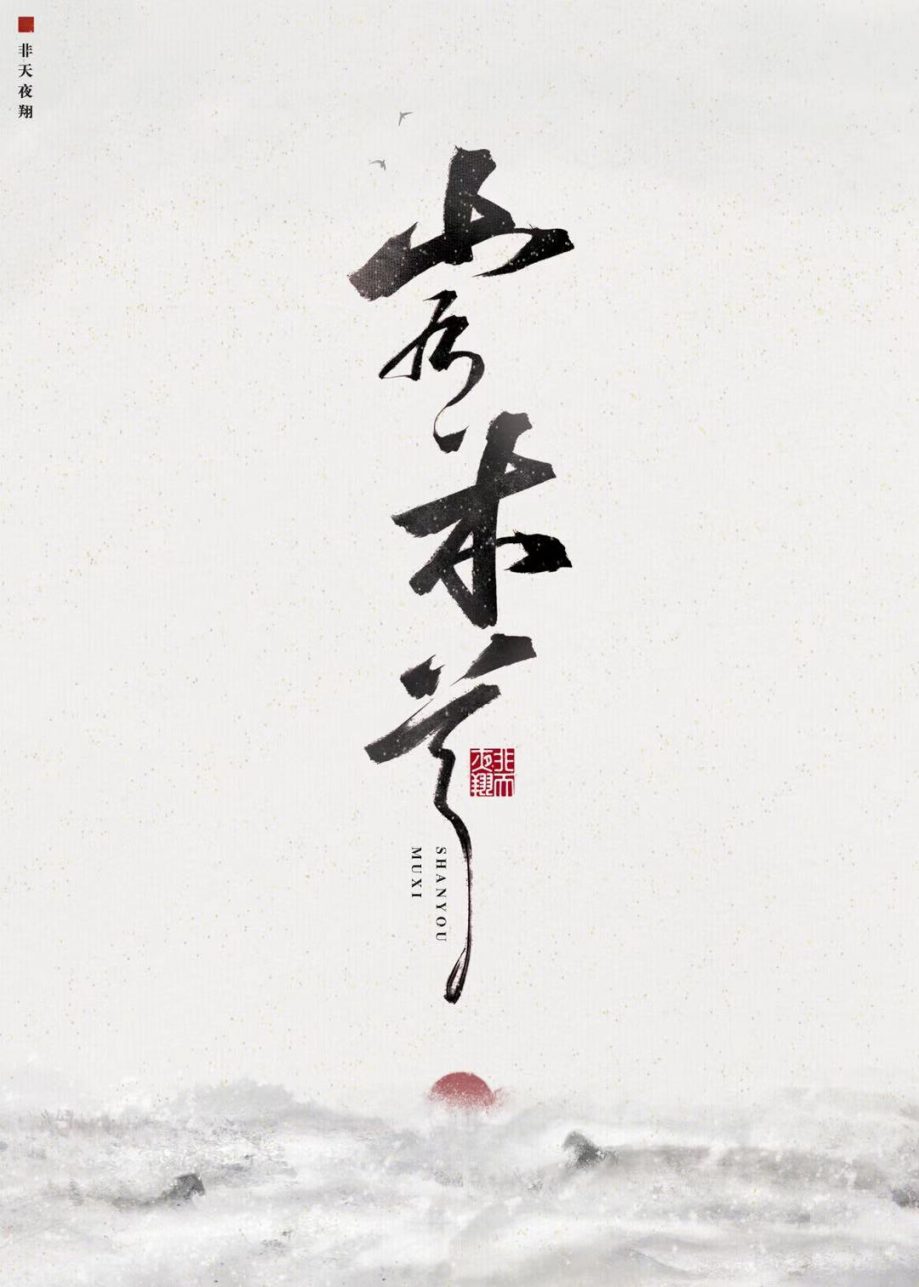 Original Title:
山有木兮
Original Link:
Raws
Release Year:
2020
Chapters:
200
Genre:
Childhood Friends to Lovers
,
Court Setting
,
Historical
,
Power Couple
---
Synopsis:
There are trees in the mountains and there are branches on the trees,
I adore you, oh! You do not know.
---
Hundreds of rivers converge, the thousand-mile rise of Taishan's bluffs, and a myriad of waves surge in the Eastern Sea.
All beneath the heavens, is the extent of the ruler's land. All within the territory of a state, are each the ruler's subjects. 
Beacons light up all over the Divine Land, danger lurks in every corner of the State of Yong.
After reuniting with Geng Shu, Jiang Heng begins to put all his effort into assisting the ruler of Yong State's plans, but he unexpectedly falls into perilous situations time and time again. Geng Shu, who always accompanied Jiang Heng by his side, is acutely aware that the various mishaps all appear to be closely related to Jiang Heng's past—was Jiang Heng really his own blood-related younger brother?
These two extraordinary young men wander throughout the country from state to state, experiencing trials, however, the truth obtained uncovered a cruel and unexpected past that couldn't be erased. The lingering heroic spirits each possess their own unfulfilled long-cherished wishes. With the great Divine Land finally unified, how would they confront their own choices of the future?
The seven stars of the Northern Sky bore witness to the end of a stormy period of history,
Until the ruins once again transform into the richly ornamented tall towers of a manor.
When the blazing city lights languidly flicker,
Those people and events worth engraving into memory
Will forever be preserved within every stroke of ink in a painting of this vast expanse of rivers and mountains.
---
Official Artwork: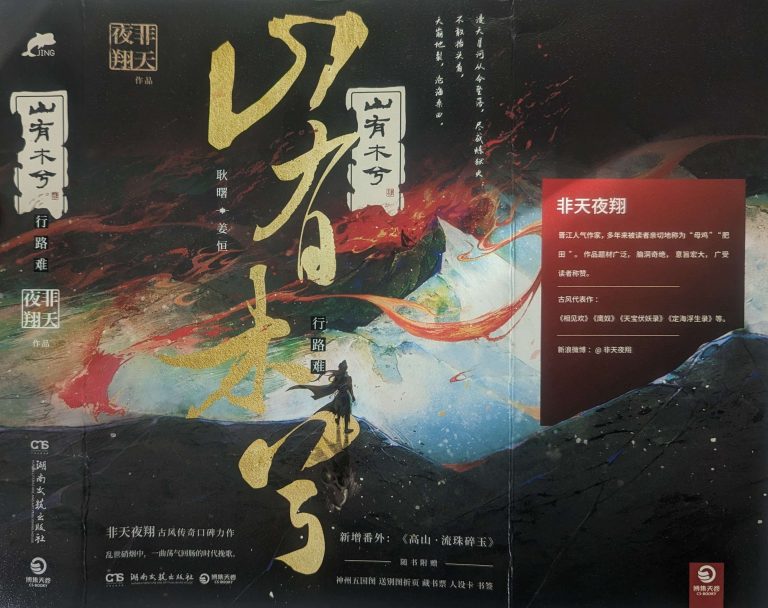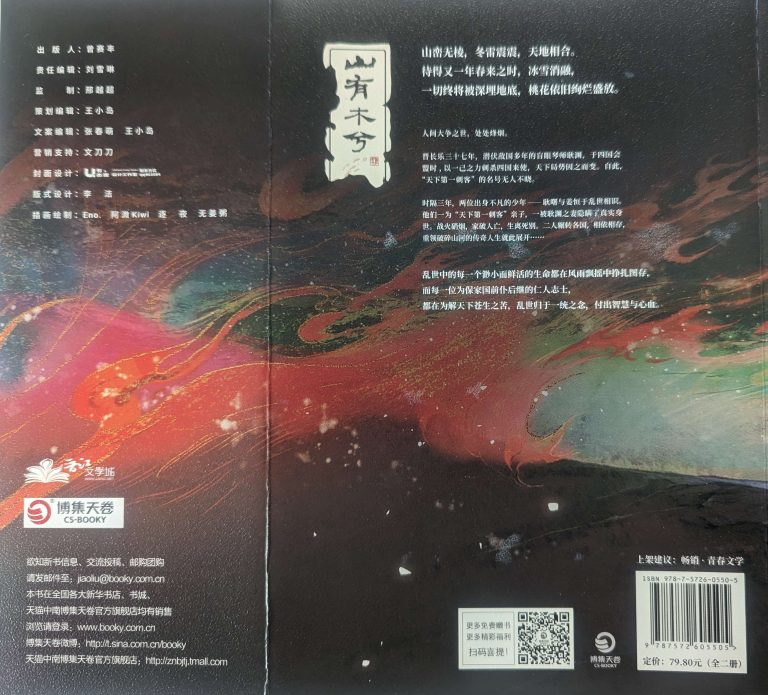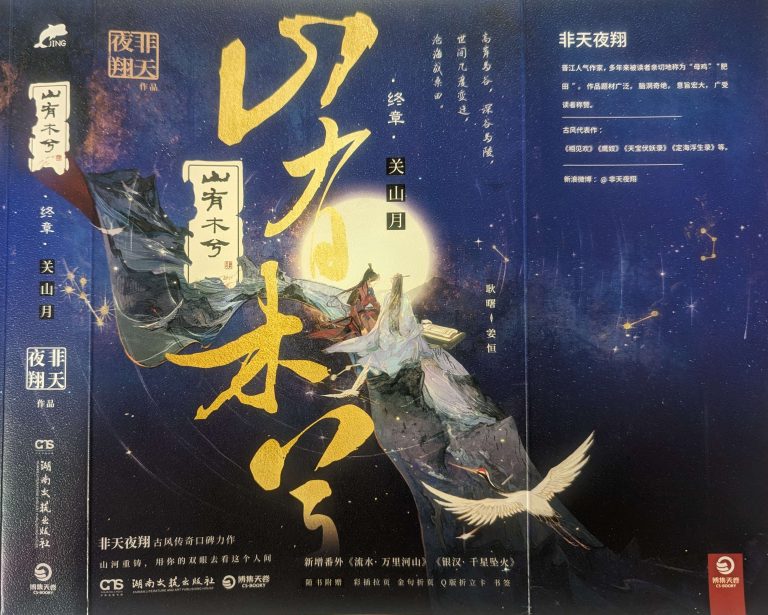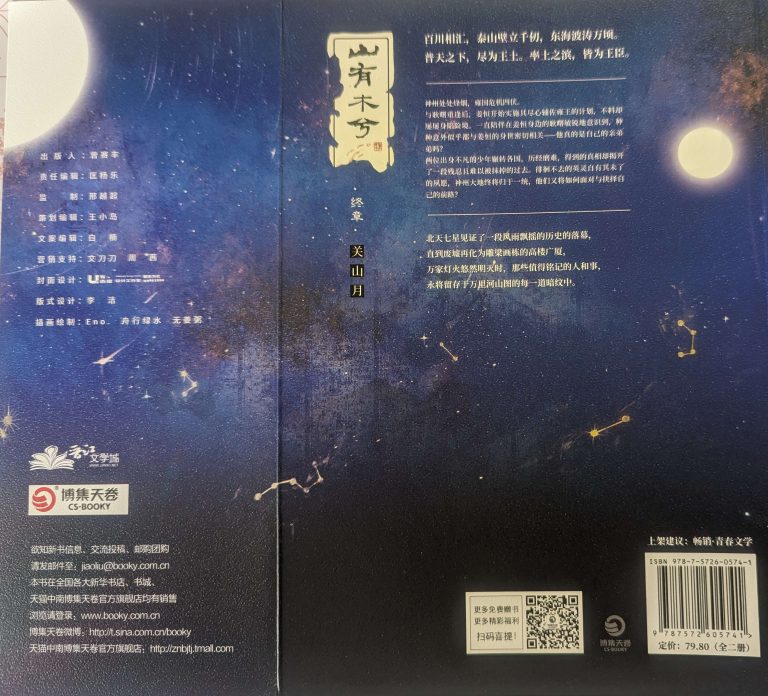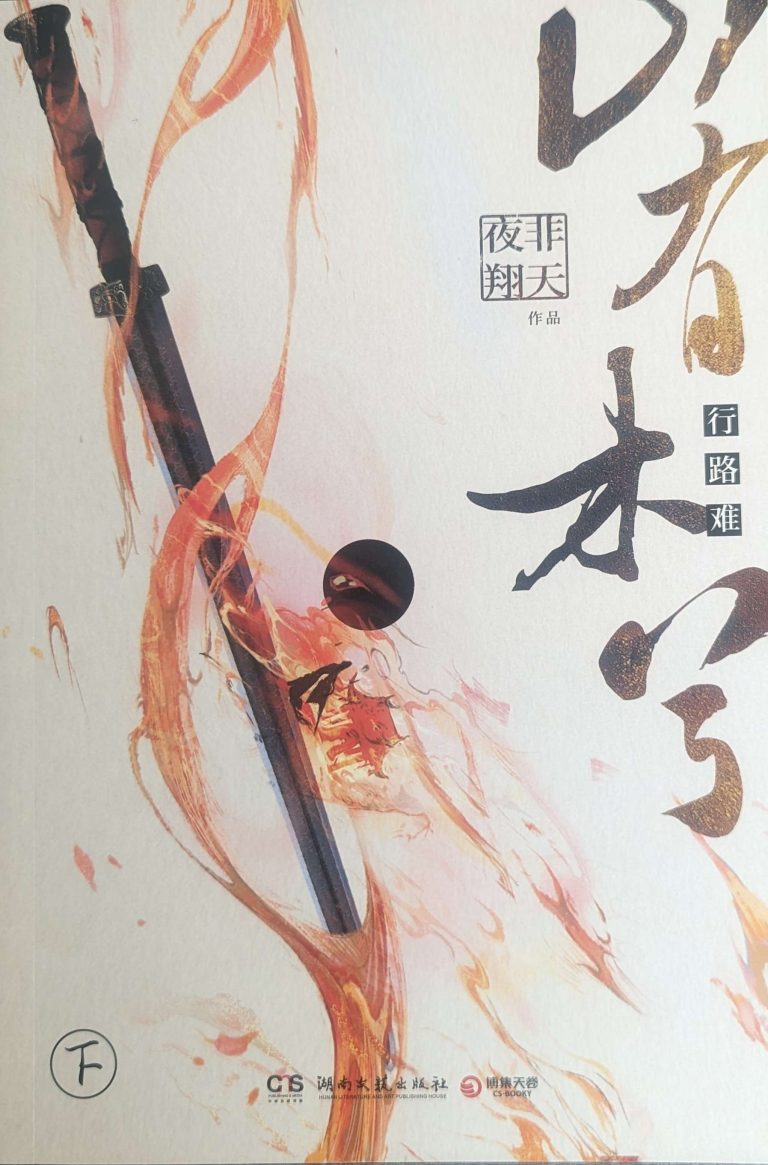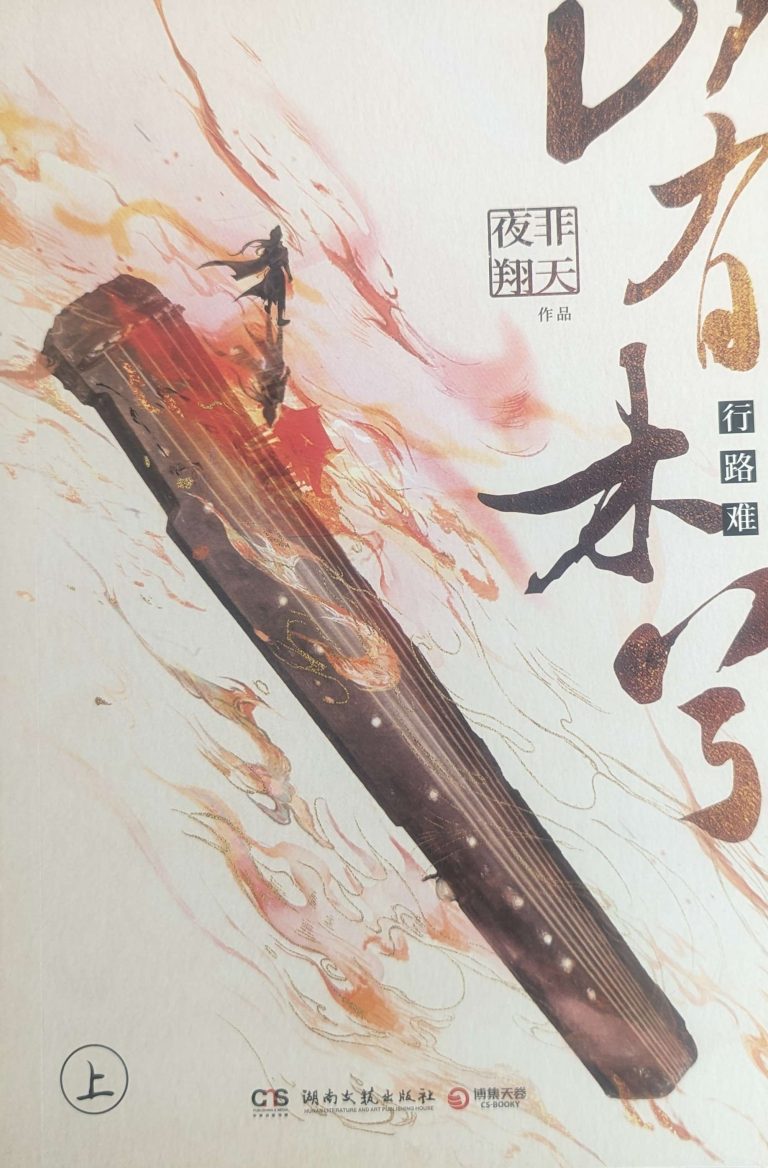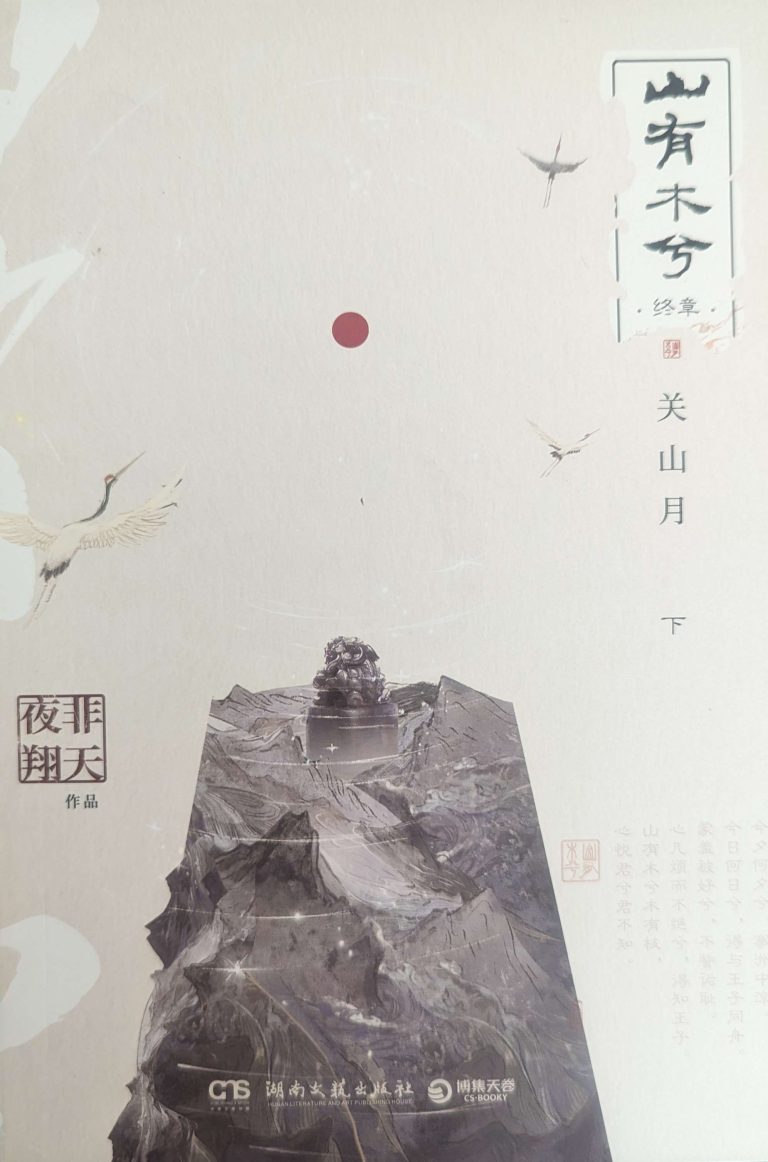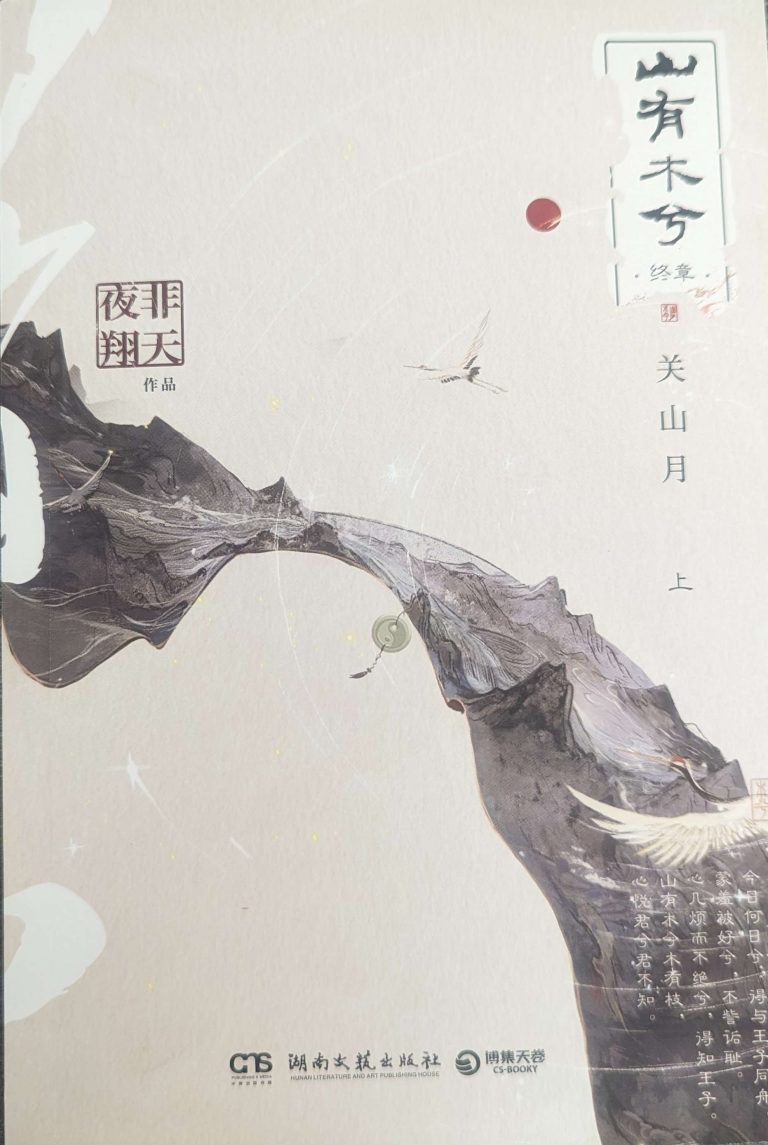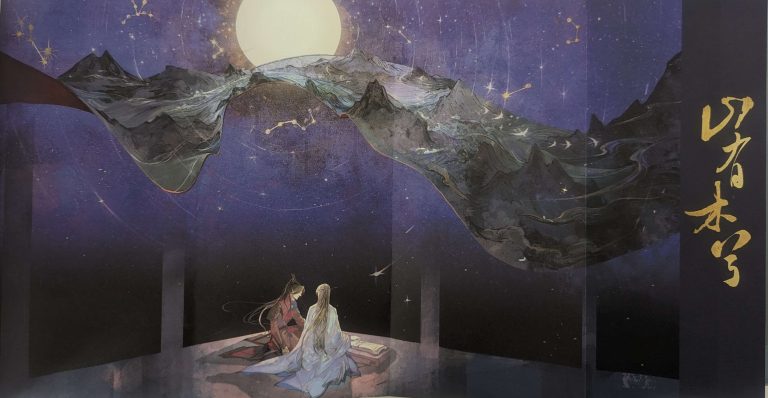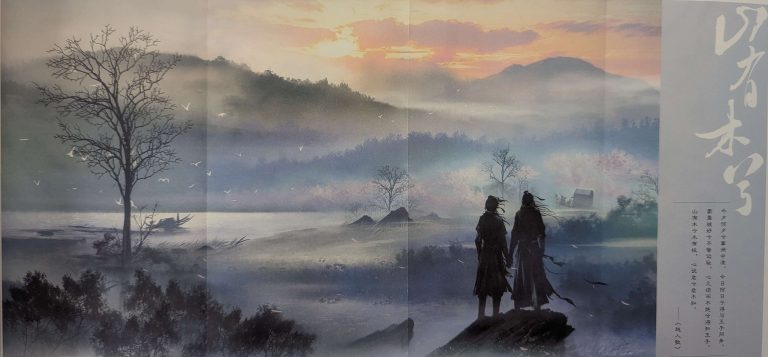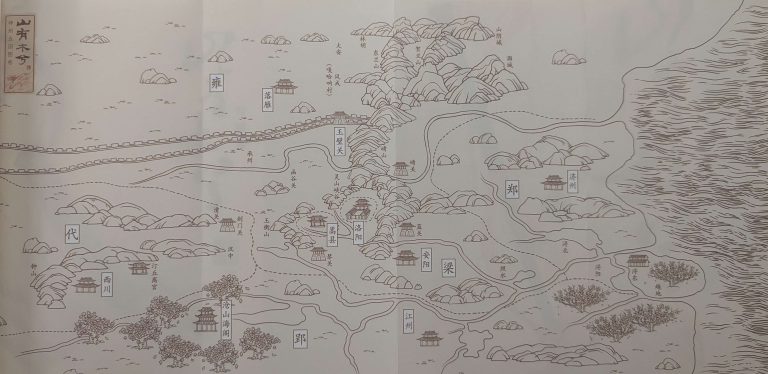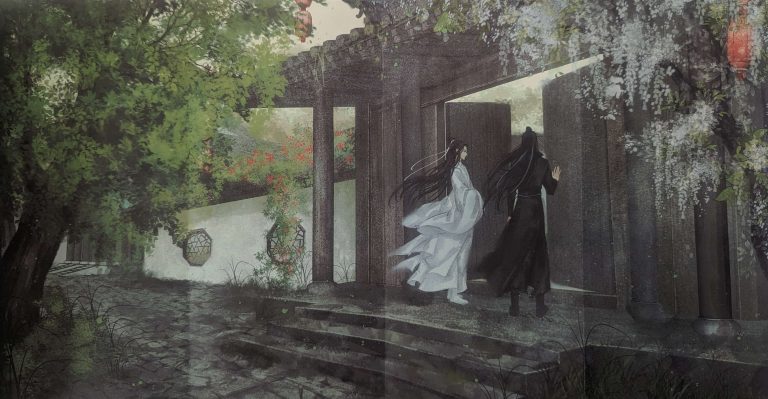 Related Works(s):
Yingnu, Let Go of that Shou, Joyful Reunion
---
Translator(s):
Translator's Note:
Feitian's newest completed novel. It is set in the same universe as Yingnu and Joyful Reunion.
The original summary and the title are from the Song of the Yue Boatman. You can check the translation here.
The newly added summary is from the simplified Chinese publication. See Weibo post.
The title of Volume 2 is the name of a poem written by the poet Tao Yuanming of the Six Dynasties period when he resigned from office to live in the countryside. There is an article with a translation and more detail about it here.
Other links:
Audio Drama (on Manbo): Season 1 ongoing here.
Shan You Mu Xi Background, Glossary, Characters, and World Map (Gdocs)
Recruitment Status:
Currently Not Open
---
Translated Chapters:
(
Sort
)
Volume 1: Prologue: Cry of the Qin Resounds Across the Realm
Chapter 1 - Watchtowers in the Mountain
Sep 28th, 2022
Chapter 2 - Envoys of the Three States
Sep 28th, 2022
Volume 1: Ambush From All Sides
Chapter 3 - Visitor at the Doorstep
Sep 28th, 2022
Chapter 4 - Love Child
Sep 29th, 2022
Chapter 5 - Whip of Admonishment
Sep 29th, 2022
Chapter 6 - Jade under the Pillow
Sep 29th, 2022
Chapter 7 - Spring Day at the Wall
Sep 29th, 2022
Chapter 8 - Texts of the Hundred Schools
Sep 29th, 2022
Chapter 9 - Blood-Stained Qin
Sep 30th, 2022
Chapter 10 - Thieves Break In
Sep 30th, 2022
Chapter 11 - Fire-Seared Scars
Sep 30th, 2022
Chapter 12 - Tianyue Sword
Sep 30th, 2022
Chapter 13 - Art of the Black Sword
Oct 1st, 2022
Chapter 14 - Three Year Promise
Oct 2nd, 2022
Chapter 15 - The Son of Heaven's Feast
Oct 3rd, 2022
Chapter 16 - Astral Jade Arc
Oct 7th, 2022
Chapter 17 - The Scene in the Armoury
Oct 12th, 2022
Chapter 18 - Grand Historian
Oct 19th, 2022
Chapter 19 - Heart of Unfathomable Treachery
Oct 28th, 2022
Chapter 20 - Tusu Wine
Nov 3rd, 2022
Chapter 21 - Wrapped in Golden Cloth
Nov 8th, 2022
Chapter 22 - Luoyang in Flames
Nov 10th, 2022
Volume 2: Let Me Return!
Chapter 23 - Bone-Piercing Nails
Nov 11th, 2022
Chapter 24 - Master Gui
Nov 17th, 2022
Chapter 25 - The Hand that Tempers Poison
Nov 24th, 2022
Chapter 26 - Maple Grove Village
Dec 1st, 2022
Chapter 27 - Slave of the Stables
Dec 8th, 2022
Chapter 28 - Moonlit Dagger
Dec 15th, 2022
Chapter 29 - Luoyan City
Jan 5th, 2023
Chapter 30 - The Will to Survive
Jan 12th, 2023
Chapter 31 - The Way of Society
Jan 19th, 2023
Chapter 32 - Zijin Family Records
Jan 26th, 2023
Chapter 33 - Mask of Human Hide
Feb 2nd, 2023